How To Make Your Wedding Website Special
Tips, Tricks, and More.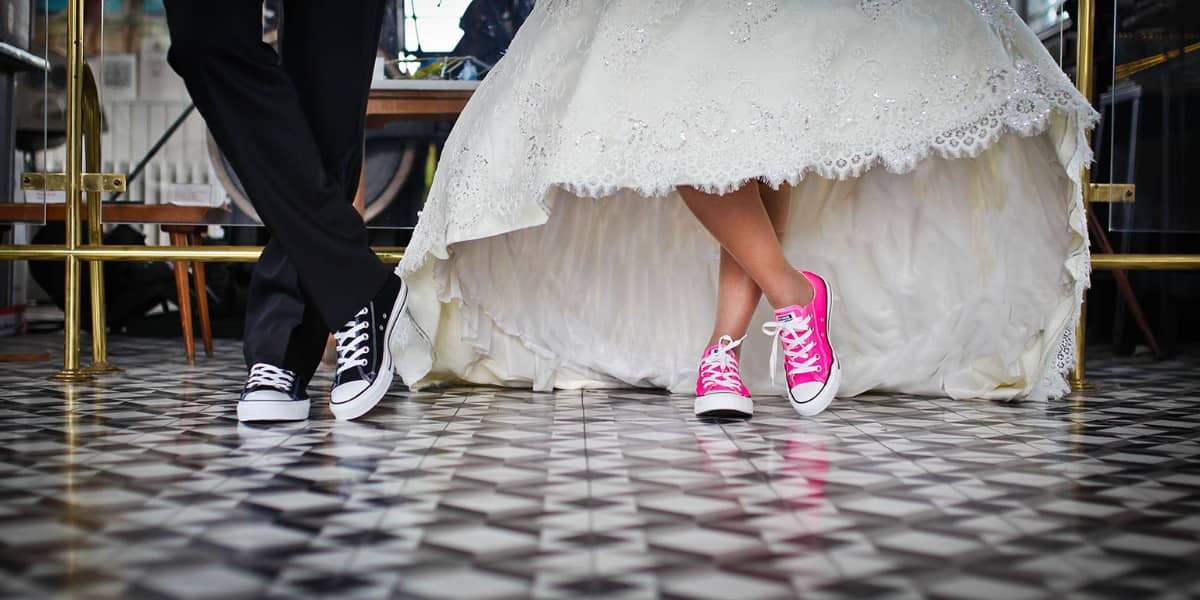 Congratulations! You're getting married. Planning your wedding is exciting, romantic, and incredibly fun. You should be able to say that same about building your own wedding website! Your wedding website can be as simple or inspired as you'd like, so make it your own. You can add personal flairs, interactive experiences, and sharing platforms just for your guests.

Here are seven of our favorite ways to spice up your wedding website and make it as memorable and beautiful as your special day.
1. Make Your Wedding Story Unique, Personal and Short
Instead of simply saying that you were introduced by a mutual friend or met online, give some backstory! Tell your guests more about what attracted you to your partner in the first place. If you have any funny anecdotes or stories, make sure you share some of them to build up the excitement and engagement before your actual wedding day. That said, you definitely shouldn't go overboard. Try to keep your wedding story as short and sweet as possible while still being unique and memorable. This way, you won't bore your guests, but you won't lose their interest either.
2. Tell Them About the Different Gifts on Your Registry
You can create your very own regi-story! Each gift of your registry has a reason for being there. If you have a registry of different gifts, give your guests some more information about why you chose them. Did you add an electric mixer to your list because you want to start getting into baking? Would you like interior decor because you've just bought your new house together and you need to start turning it into a home? Say so! This will show your guests that whatever they get you won't eventually end up in a forgotten drawer, never to be seen again. It will also help you sort through your registry to remove any items that you might actually not want that much.
3. Add An Easy-To-Access Place to Share and Post Photos
Weddings are the perfect place to take snapshots and make memories that you can look back on for life. While you're mingling with your guests, they're probably taking countless photos of you, the venue, and the decor. To make sure that you can save all of these precious moments, give your guests a platform where they can share all of the photos they took without sending them via text or email. This makes sure that everyone has the chance to find photos of themselves, the special day, and all the little moments in-between by tapping into one central platform. There are countless photo sharing apps out there, so simply do a quick Google search to find the platform that suits your needs and budget, and you're ready to snap some shots and save them forever!
4. Create A Hashtag and Ask Guests to Use It
A cool or quirky hashtag lets your guests share photos, videos, and posts that you'll be able to sort through at the touch of button. It also helps your own guests discover photos shared by everyone else who attended as well. If you're not sure how to come up with your own hashtag, turn to Google for inspiration! There are countless valuable resources and tips out there that will help you come up with something completely unique. Just be sure not to use a hashtag that's been used by another couple, or you might end up confusing your guests - and yourself!
5. Add An Advice Column
When it comes to weddings, it seems like every guest has their own piece of matrimonial advice that they believe might help you make the most of your lives together. Some of this advice might be good, some might be bad, but sometimes, you find some real, lifechanging guidance that you'll want to carry with you forever. Give your guests the chance to share their best advice for the rest of your life by creating an advice column. Your guests will feel involved and appreciated, while you'll be able to read through all their posts and extract what you find valuable.
6. Create A Snapchat Filter
If you're a quirky couple who loves all things tech or social media, then a personalized wedding snapchat filter is a great way to get your guests taking photos throughout the evening. It's fun, exciting, and perhaps even a little silly, but that's exactly what's going to set your website apart from all the others that your guests have seen so far. If you have the skills, you can design one yourself. If you don't, simply check out one of the countless filter generators and mobile apps online!
7. Get Inspired by The Things You Love
Your wedding website is the perfect place to showcase and celebrate who and what you love. Are you obsessed with mountain climbing? Does cooking drive you crazy? Make your shared passions a part of your wedding website for an added layer of love and excitement. Not only is it a lot of fun to come up with new ways to share your passions and hobbies, but it'll also make your guests feel more connected to you as people, despite communicating on a digital platform.
And There you have it, folks!
We hope these seven tips have given you some inspiration for what you'd like to add to your own wedding website. If you've started building your website already or haven't even given your headline any thought, these seven tips are incredibly helpful for personalizing your website.
If you have any ideas or recommendations for how to create a personal and unique wedding website, leave them in the comments below!
For more information on how you can build your own unique wedding website, reach out to the onepage.website team today and we'll answer any questions or concerns you might have.